Salil Wilson – My Journey to ThingLink
By Salil Wilson
On first hearing about ThingLink (a Finnish based tech start up) I have to confess I was less than enthusiastic. Admittedly it was not the best introduction, it was over a meal with no demonstration. Just a good friend leaning forward and eagerly telling me rich media image tagging was going to be the next big thing.
It was one of those awkward moments where you know the person will be disappointed if you don't respond with equal to or greater than the level of enthusiasm at which the information is being conveyed.
My initial thoughts were "What is rich media tagging?" and, "Why would you want to tag photos anyway?" (If you haven't guessed I'm one of the 5 remaining people on earth who aren't active on Facebook.)
I didn't hear anymore about ThingLink from this fellow for about 2 weeks – he was obviously not fooled by my feigned interest. But, as with all evangalists, he couldn't resist and sent me a link to the image below.

I was fascinated by this apparently quite a famous photo of the original Microsoft staff and all the extra information it contained thanks to ThingLink. I clicked on every single link and got a small sense of how each one of these people went on to live their lives – a little like a school graduation book. The next step for me, as it is for all ThingLink adopters, was to make my first ThingLink(ed) image. So I made one about the World Harmony Run – an event I organize and love.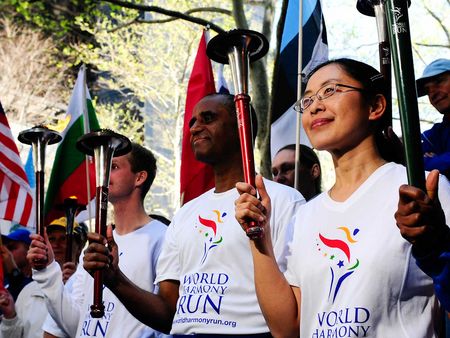 It was very simple and great of fun. I could easily combine elements that would normally be beyond my reach or take hours of fiddling with html and ThingLink did it in a cleaner more functional and engaging way. (OK I'm not a web developer but neither are 99% of us).
I have since gone on to make quite a few ThingLink (ed) images and info-graphics and am even consulting for ThingLink. You can find many of these images at ThingLink and Learn. Here's one below I'm quite proud of.
I continue to be surprised at how remarkably well ThingLink works – many times it does things that exceed my expectations. Just check out how well this Ipad info-graphic meshes with the Itunes rich media tags – I didn't see that coming.
ThingLink is an idea whose time has come. It brings together many engaging elements of the web, combining them in a way where the whole is so much greater than the sum of its parts.
ThingLink has made me understand what mashup really is – and it is done really elegantly, after all what would you expect from those Finns.
Salil Wilson is Executive Director of the World Harmony Run – a global torch relay dedicated to World Peace. When he's not running around the world with a torch he consults for ThingLink.
Visit the ThingLink team at the American Association of School Librarians 15th National Conference and Exhibition – Booth #330 – on October 27-30 in Minneapolis, MN.